Performance System
NOW INTRODUCING
THE ULTIMATE GOLF
PERFORMANCE SYSTEM
FLAT CAT® is excited to announce the introduction of our newly developed CBD Performance System. We have developed a complete performance system designed to improve every facet of your golf game. The system is designed to be taken throughout the day - prior, during, and post activities where concentration and a high degree of performance are expected.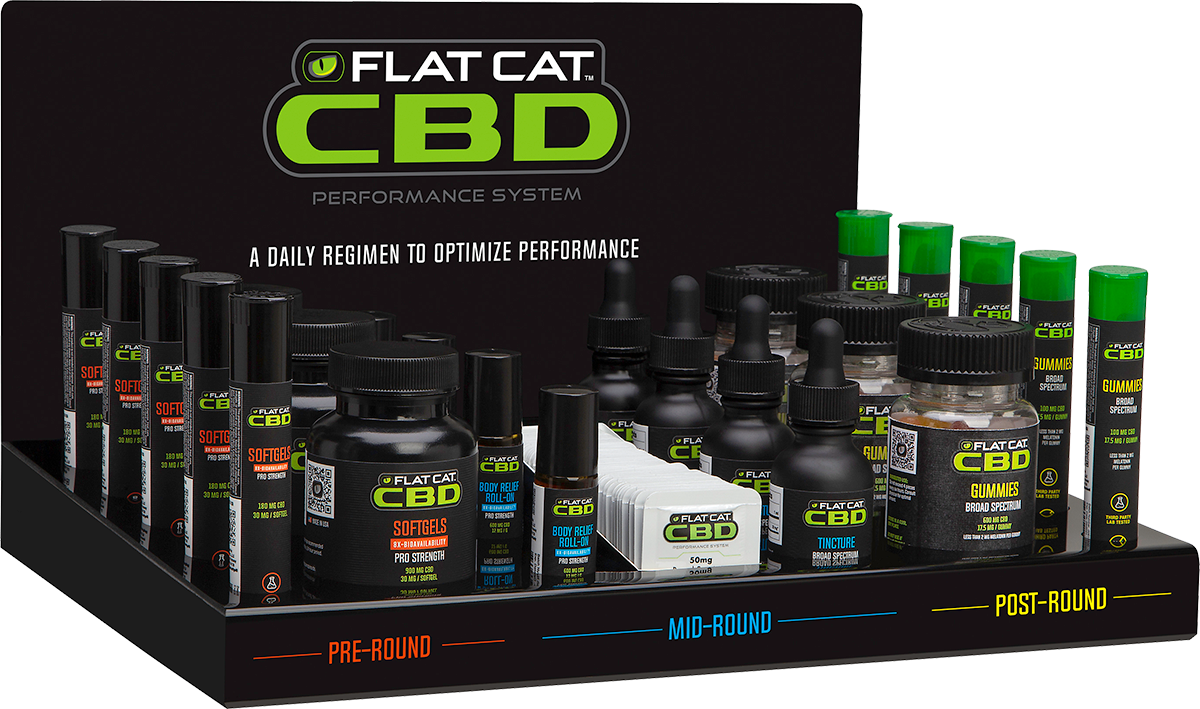 PRE-ROUND
SOFTGELS

Prepare before your round, workout, a day in the office, and more with FLAT CAT CBD Softgels. Each softgel contains 30 MG of Pro Strength CBD. The 8x-Bioavailability encourages higher absorption than other options, providing a better result and impact.
---
Softgels 30 Pack
Amount: 900 MG CBD
Dosage: 30 MG / Softgel
Size: 30 Softgels
Softgels 6 Pack
Amount: 180 MG CBD
Dosage: 30 MG / Softgel
Size: 6 softgels
MID-ROUND
ROLL-ON & TINCTURE

Enhance performance or find relief during your round with our CBD Mid-Round assortment. Select between a Pro Strength Roll-On or Broad Spectrum Tincture.
---
Body Relief Roll-On
Amount: 600 MG CBD
Dosage: 12 MG / G
Size: .33 fl oz
Tincture Bottle
Amount: 1000 MG CBD
Dosage: 33 MG / ML
Size: 1 oz (30 ml)
Tincture Single Serve
Amount: 50 MG CBD
Size: .04 fl. oz. (1.2 ml)
Only available in stores
POST-ROUND
GUMMIES

Get relief after your round CBD Gummies. Each gummy contains a low dosage of Broad Spectrum CBD and Melatonin. These are designed to be taken immediately after play or once you get home, where relaxation and recovery can begin.
---
Gummies 36 Pack
Amount: 600 MG
Dosage: 17.5 MG / Gummy
Size: 36 Gummies
Gummies 6 Pack
Amount: 100 MG CBD
Dosage: 17.5 MG / Gummy
Size: 6 gummies
GREEN GRASS CUSTOMER?
Click here to learn more about our Wholesale program.
HAVE QUESTIONS?
Click here to learn more about the benefits of CBD.